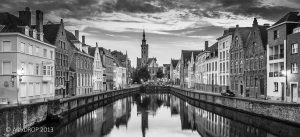 The square of Jan Van Eyck, a square situated in the centre of Bruges, is a nice place to go and enjoy the beautifull view on the typical Bruges buildings and the water canal.
In the middle of this square you can find a large statue of Jan Van Eyck himself, which was a famous artist of the Flemish Primitives.
The place itself was very important, and that's why you still find some buildings with a nice history:
Red Stone House
Tollhouse
Rijkepijnders building
Heilig Graf building
Wezelkin building
Poortersloge
So, if you want to enjoy a quiet but beautiful place in the centre of Bruges, the Jan Van Eyckplein is your must see.